Our History
1973
The World's First Flavored Lip Balm
Lip Smacker debuts as the world's first flavored lip balm, introduced by Jess A. Bell Sr. in Strawberry, Lemon and Green Apple.
1975
America's Famous Flavor
Lip Smacker embarks on its first flavor partnership with the iconic Dr. Pepper.
1986
Take Me To The Tropics
The first tropical flavors are introduced. Meet Passion Fruit and Pina Colada.
1987
America's Famous Flavor
Lip Smacker embarks on international distribution and opens an Asia-Pacific office in Australia.
1989
A European Union
Lip Smacker expands distribution into the EU, with offices in Austria and the UK. The EU headquarters is currently in Norway.
1995
A Colorful World
Full color logos are added to the side of all Lip Smacker and Smackers products.
1996
LS Hits The Web
The brand's first website www.smackers.com debuts.
1996
Hello Sunshine!
Sun Smackers launch! Sports Cooler, Calypso Punch and Mountain Berry are three of the first line of SPF Lip Smackers, each with a key ring friendly cap to attach to a sports bag.
1998
Out Of This World!
The Cosmic Lip Smacker line launches, with planetary inspired flavors and space facts included with each balm.
2000
Gorgeous Gems
The Jewel Lip Smacker line launches with 12 precious stone inspired flavors like Sapphire Berry, Strawberry Garnet Glaze and Butterscotch Topaz.
2003
Smooth, Glossy Shine
Liquid Lip Smacker launches into the LS product family.
2004
BFFs In Flavor
Lip Smacker partners with colorfun candy brands Starburst and Skittles
2006
A Coke And A Smile
Due to Lip Smacker and Coca-Cola's successful partnership, Bonne Bell is named The Coca-Cola Company's Licensee of the Year
2009
The New Look
Lip Smacker introduces a modern logo that calls upon its heritage.
2009
Around the World
Lip Smacker expands into Asia.
2010
Start Smiling, Princesses
Lip Smacker partners with Disney for a much-loved line of character inspired lip glosses.
2013
Happy Birthday, Lip Smacker!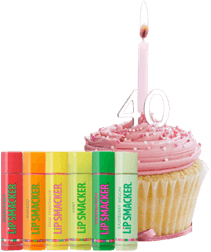 Lip Smacker celebrates its 40th birthday with new flavors and a new ecommerce website, join the celebration!
2015
Today
Lip Smacker finds a new home at Markwins and moves from Ohio to California.